Project management

Project management

Even the best applicable technology is destined for a failure without comprehensive and proper project management.

GES employs the most experienced Project Managers with proven track record of successful projects and exceptional personal skills featuring technical, conceptual, planning and interpersonal abilities.

Based on company's previous experience, GES implements most advanced Project Management  techniques and methodologies aimed to achieve specific goals and meet client's success criteria.

Proper planning
Strict control of time, cost and quality
Critical path method
Adaptive Project Framework
Risks management
And others

Complete process design

Complete process design

Every project has its own unique and specific design requirements. GES expert team evaluate Client's Technical Specifications and implement best available technology (BAT) for system performance optimization.

Our engineering design features :

Tailored custom made design

Basic and detailed process design
Process and energy optimization
Human engineering
Footprint consideration

Environmental approach

Chemicals consumption reduction
Waste management optimization
Recovery rate

Regulation constraints

Purchasing & Fabrication

Purchasing & Fabrication

Purchasing and fabrication is one of the most essential stages of a project. Starting with vendor selection, purchasing negotiation, fabrication through to final FAT.

GES excels at guaranteeing the perfect balance between each components price while scrupulously maintaining highest quality and fabrication in accordance with requirements defined in international standards:

Materials of construction
Welding procedures
Pressure tests
Safety protocols
Electrical cabling and wiring

Construction & Commissioning

Construction & Commissioning

Construction

Initially,  prior to mechanical installation on site, GES works alongside the Customer to ensure the site is ready to receive the water treatment system.

GES experts supervise every step of the installation surveying quality and compliance to original design.

Commissioning

At the conclusion of the mechanical installation, GES performs complete commissioning of all subsystems to ensure full compliance with project goals and requirements be it:

Product water

Quality parameters
Production capacity

System performance

Recovery rate
Redundancy
Control interface

Post sale service

Post sale service

Maintaining our high standards and guaranteeing customer satisfaction, GES continues to offer post sale support making sure products and services meeting or surpassing client expectations.

GES offers professional on-location and remote support to ensure a smooth and continuous supply of clean water.

After installation GES offers:

Thorough staff training
Comprehensive, well-crafted O&M documentation

GES can provide a facility O&M manager who plays a key role in ensuring that the system performs as designed, while maximizing its production, economic and environmental benefits. GES provides a complete package of O&M services for new, retrofitted and existing plants.

There are several key factors that make GES a reliable partner for a variety of complex operations and maintenance tasks:

Highly trained on-site teams and experts
State of the art technologies, including cutting-edge telemetric supervisory, control and data acquisition systems
Proven track record in reducing operation costs while increasing productivity and product quality
Professional laboratory support, continuous monitoring of chemical, biological and physical processes
In-house R&D department, able to conduct on-site trials of new technologies
Supply of spare parts, consumables and chemicals
Project management
Even the best applicable technology is destined for a failure without comprehensive and proper project management.
GES employs the most experienced Project Managers with proven track record of successful projects and exceptional personal skills featuring technical, conceptual, planning and interpersonal abilities.
Based on company's previous experience, GES implements most advanced Project Management  techniques and methodologies aimed to achieve specific goals and meet client's success criteria.
Proper planning
Strict control of time, cost and quality
Critical path method
Adaptive Project Framework
Risks management
And others
Complete process design
Every project has its own unique and specific design requirements. GES expert team evaluate Client's Technical Specifications and implement best available technology (BAT) for system performance optimization.
Our engineering design features :
Tailored custom made design

Basic and detailed process design
Process and energy optimization
Human engineering
Footprint consideration

Environmental approach

Chemicals consumption reduction
Waste management optimization
Recovery rate

Regulation constraints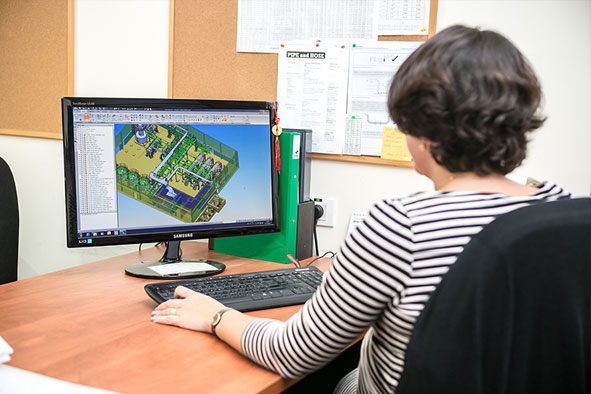 Purchasing & Fabrication
Purchasing and fabrication is one of the most essential stages of a project. Starting with vendor selection, purchasing negotiation, fabrication through to final FAT.
GES excels at guaranteeing the perfect balance between each components price while scrupulously maintaining highest quality and fabrication in accordance with requirements defined in international standards:
Materials of construction
Welding procedures
Pressure tests
Safety protocols
Electrical cabling and wiring
Construction & Commissioning
Construction
Initially,  prior to mechanical installation on site, GES works alongside the Customer to ensure the site is ready to receive the water treatment system.
GES experts supervise every step of the installation surveying quality and compliance to original design.
Commissioning
At the conclusion of the mechanical installation, GES performs complete commissioning of all subsystems to ensure full compliance with project goals and requirements be it:
Product water

Quality parameters
Production capacity

System performance

Recovery rate
Redundancy
Control interface
Post sale service
Maintaining our high standards and guaranteeing customer satisfaction, GES continues to offer post sale support making sure products and services meeting or surpassing client expectations.
GES offers professional on-location and remote support to ensure a smooth and continuous supply of clean water.
After installation GES offers:
Thorough staff training
Comprehensive, well-crafted O&M documentation
GES can provide a facility O&M manager who plays a key role in ensuring that the system performs as designed, while maximizing its production, economic and environmental benefits. GES provides a complete package of O&M services for new, retrofitted and existing plants.
There are several key factors that make GES a reliable partner for a variety of complex operations and maintenance tasks:
Highly trained on-site teams and experts
State of the art technologies, including cutting-edge telemetric supervisory, control and data acquisition systems
Proven track record in reducing operation costs while increasing productivity and product quality
Professional laboratory support, continuous monitoring of chemical, biological and physical processes
In-house R&D department, able to conduct on-site trials of new technologies
Supply of spare parts, consumables and chemicals